He's back!!! I missed you too!
Well a lot happened since I've last posted (dodging tomatoes)…Where to start…Where to start?
Grad school…I did that!
I've moved from one "M" to another…I call the "Wauk" the place I lay my head now…Its cool…I miss bbq though…I mean I have an issue with any city that calls Famous Dave's the best BBQ in the County…I mean…If I want to go to get my beef brisket or pulled pork on, I don't want to be stuck in a place like…
I want to go somewhere like…
Where some dude name Leroy is back in the kitchen…And the waitresses have bad attitudes…
And its owned by Tyron "Gumbo" Jenkins and DB (just DB)…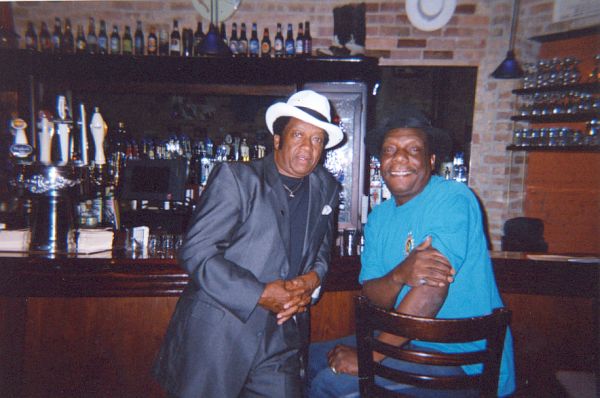 Anyway…Let me get off my bar-box to fill you in with the rest…And the craziest thing that has happened since I moved was my brother getting traded…Big shock…We were going to be 45 minutes away from each other…And then I got the call…
"Hey homeboy…Don't worry about coming to Friends and Family Night at Soilder…I'm jumping on a plane to Charlotte…Ya boy just got traded…"
But hey…When you are giving lemons…You make lemonade…He is putting up Pro Bowl numbers…So we are looking forward to the trip to Hawaii…
The new gig…Love it…Office space is great…Keeps me busy…But I can deal with it…
Wish I could spend more time with the
O.H.A
…What?
O.H.A?
The Opener…Headliner…and After-party…Yep…its like that…9 hours apart can be a headache…But hey…One day…You know?
And all this foolishness in the world today…I don't even know where to start…
Between…OJ, Duane "Dog" Chapman, Dr. Jan Adams (R.I.P. Dr. Donda West), Chris Henry, Pacman Jones, Performa CEO John Elkington (Memphians you know who I'm talking about), Vick, Oscar De La Hoya for them damn pics, Bernard Kerik, or Martha Heller, the Iowa woman that ran a classified ad to sell her spare breast milk output for two dollars an ounce…I don't know which should be the first in line to b-slapped…
But enough about me…
What have you guys been up to? Let me know! I will be waiting and reading…I'll keep you posted
P.S….I'M BACK FOR GOOD…