Where to start?
Okay...Marlo...
Marlo meets with Vondas, who doesn't want dirty money — meaning bills that are literally unclean — from the street. He prefers the clean way Prop Joe delivers his money and sends Marlo away.
Marlo Stanfield...You in the big leagues now...I'm very disappointed...
Keeping it real Wire around here...
Michael...
You going to leave your post all day to go hang out at Six Flags with Dukie and Bug...? Without telling Chris...I mean...Are you getting high on your own supply...You know Chris is crazy! He kills anything walking...Looking at him...
This man will open you up just to have a story to tell...
Keeping it youthful, because they are our future leaders...Which is scary by the way...
Soulja...
Stop Playing...
"I think if y'all did it right now, yeah, I deserve to be on there. But back there, when y'all did it, I probably didn't have the status that I have right now. I'm Grammy-nominated. If I look at the new list and I compare myself to all 10 of the artists and some don't add up, I'll be like, 'Wow. I should be #1 if it's right now. I'm #1."

Soulja Boy was more candid when asked how he ranks specifically against alumni of the first Hottest MCs list, like Weezy, 'Ye and Jay-Z.

"Right now, yes [I'm hotter than them]. Today, January — whatever the date this is — 2008, yes [I am the hottest]."
This when you know the game is on a decline when "Ringtone Rappers" think they have rank as a MC...LOL
Okay...Next...
Billie Pelley (left)...
JANUARY 23--A 20-year-old female corrections officer is facing sex assault charges for allegedly performing oral sex on a male inmate on New Year's Eve in an Oklahoma jail. Billie Pelley told investigators that she entered inmate Bobby Mann's cell and began kissing the 37-year-old inmate "for a while." She then advanced to
servicing
Mann, but
"stopped after thinking about what she was doing,"
according to a probable cause affidavit filed earlier this month in Okfuskee County District Court. By then, however, Pelley's encounter with Mann had already been recorded by a surveillance camera. When a dispatcher, Andrea Million, subsequently entered Cell 10, she found Pelley sitting on the side of Mann's bed. During an interview with a sheriff's investigator, Pelley admitted the sexual contact with the prisoner, who is awaiting trial on a
bomb threat count
. Pelley was charged last week with forcible sodomy, a felony, since Mann was not legally "capable of giving legal consent" because he is in custody. Prosecutors concede, however, that Mann, not surprisingly, consented to the oral sex. While Pelley quickly bonded out of jail after her arraignment, Mann remains in the Oklahoma lockup. -TSG
Stopped after thinking about what she was doing...?
Stopped after thinking about what she was doing...?
Stopped after thinking about what she was doing...?
*speechless*
Keeping on the subject of sexual healing and above...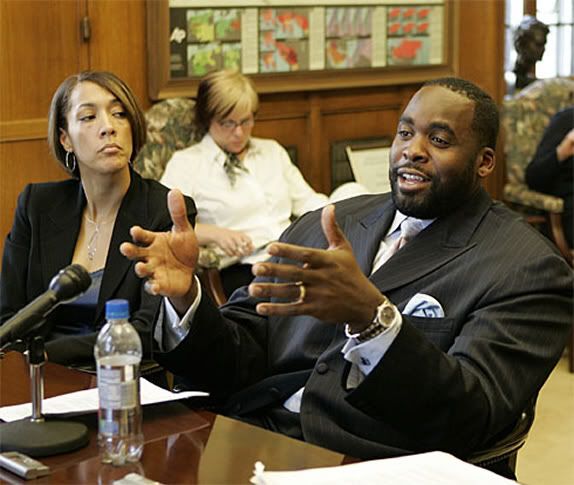 Kwame...
Text messages...On government issued...For real? So thats how you do it Kwam & Chris...? That's whats hot in the streets?
9/12/02, 10:38 p.m., during trip to Washington, D.C.
Christine Beatty: Can I just come and lay down in your room until you get back?
Kwame Kilpatrick: Yes.
9/13/02, 9:02 a.m. (the next morning)
KK: They were right outside the door. They [the mayor's bodyguards] had to have heard everything...
CB: So we are officially busted! LOL
KK: LOL LOL! Damn that. Never busted. Busted is what you see! LOL. ...
CB: LOL, LOL. Damn, so they have to walk in before you conceed busted! LOL.
KK: Hell yeah. Walk in.
9/15/02, 3:38 a.m. (still in Washington)
CB: I'm on my way to your room now. But by the time you get there I'll be sleep and it will be 5am!
KK: I got something for you.
CB: LOL. Is that so? I'm in your room. Don't let Mike check it [an apparent reference to Mike Martin, a bodyguard who often traveled with the mayor]. Are you in route or still hanging? What do you have for me?
9/24/2002, 6:56 p.m.
CB: This is one of those little things I had to tell you. Last night when I was laying on your shoulder in the car and you held my face and sang whatever song it was, that felt so good. It was just one of those little moments when you just made me fall some more.
9/28/2002, 11:53 p.m.
CB: Where are you now?
KK: At home waiting for all EP [executive protection unit officers] to leave. Where are you?
CB: At the residence inn in Madison hgts.
KK: What rm?
CB: ...I'm in room 311 in bldg 3 in the back.
10/7/2002, 11:20 p.m.
CB: OK, I'm feeling like I want another night like the most recent Saturday at the Residence Inn! You made me feel so damn good that night. As you can see I can't let it go! ...
KK: I feel that we can do that in WV [West Virginia] + just relax together. I need you soooo bad. I want to wake up in the morning and you are there. Make it happen. Love ya.
10/8/2002, 10:18 a.m.
KK: I'm fine. Need a break. I want to get out of town w/you. Check on resorts outside of Houston.
10/16/02, 11:48 p.m.
KK: I've been dreaming all day about having you all to myself for 3 days...relaxing, laughing, talking, sleeping and making love.
10/31/2002, 5:28 p.m.
KK: I'll feel better once I'm holding you.
CB: You didn't say whether or not we are trying for some time tonight.
KK: Definitely. I'm getting a room. Damn that!
CB: LOL. Okie dokie.
(Kilpatrick later tells her to pick up room key at Marriott)
11/1/2002, 12:28 a.m.
KK: 6301 or 6302?
CB: Definitely 6302! 6301 has two double beds.
4/8/2003, 8:55 p.m.
KK: I'm at Laker game. The security doesn't believe I'm mayor. Mike is pulling out all kind of shirt to prove it.
CB: And, did you miss me, sexually?
KK: Hell yeah! You couldn't tell. I want some more. Don't sleep!
5/5/2003, midnight
KK: That's the first time that I couldn't fully seduce you. My game is off. LOL! Thanx for the conversation and the QT! Love you!
CB: LOL! Your game is way on baby! "you had me at hello!" Jerry McGuire 2000. LOL. I just didn't want to get caught.
All I have to say is...
Next...
All American Football League...
(head down)
All American Football League to hold first draft Saturday
The All American Football League will hold its inaugural draft Saturday in Atlanta. The process will supplement rosters built on a core group of

former

college stars assigned to the league's six teams based on geography.

The AAFL will begin play this spring as a minor league with a twist: teams are based in college football hotbeds and hope to draw support from those fans during a down time for the game. Alabama, Arkansas, Florida, Michigan, Tennessee and Texas will field teams filled with players who attended schools in those states or neighboring states.

Players must have earned their college degrees, exhausted their eligibility and been evaluated by league coaches after attending an AAFL combine to be eligible. The list of committed players is heavy on quarterbacks, including Chris Leak, who led Florida to the 2007 national championship, and Tee Martin, who guided Tennessee to the 1998 title.

The league's 10-game season opens April 12 with some Friday night games but most on Saturday. Teams will bring 60 players to training camp and will have game-day rosters of 46. Player salaries will range between $50,000 and $100,000.-USAToday
WHY?!?
All I have to say is I hope you can cash that check Tee...Ef a check...Just ask for straight cash...
Speaking of that bread...
Last, but not least...
Mo' Money Taxes...
Thanks
Fresh
for a trip down memory lane...God! Thank you for blessing me with time living in the Bluff City...I love Memphis! LOL
When I was living in Memphis we couldn't wait to see this Tom-foo hit airways...It happened every January...Always something new...Something that sets the race back another 15 years...
And what really makes my heart hurt is that this Memphis based company has expanded...And now they are servicing in 10 different states....
(shaking my head)
On that note...Have a great Sat...And...
I'll keep you posted