Don't look at me like that! Okay I know I'm not the only one that watched the 129th Westminster Kennel Club Dog Show...I know ya'll are out their shaking ya'll heads...But I like it...Yes, I know it sounds lame...And ya'll don't expect this type of behavior out of me...But seeing folks spend thousands and thousands of dollars on a CAVALIER KING CHARLES SPANIEL (Sounds expensive) and treating them better than their own relatives is very humorous...Don't you think?
Even the bios are a trip...Check this out...
Ch Starfire's Wicked Mean-N-Nasty (Dog's whole street name)
Breed: Pomeranian
Sex: Dog
AKC: TR 07737301
Date of Birth: October 19, 2002
Breeder: Jose Cabrera & Fabian Arienti
Sire: Ch Pufpride Sweet Dreams (daddy or male ancestor)
Dam: Ch Starfire's Table Dancer (momma...Okay why this bitch
*I'm talking about a female dog*
is a stripper...Table Dancer...Come on...)
Owner: Capt Jean L Heath & W H Cosby Jr & J Cabera & F Arienti (Yes the Cosby's own dogs...I wonder who is going to get custody after Camille bank that clown for cheating on her...How do you cheat on Camille? Come on this is Camille...Look at her...Does she deserved to get cheated on...One of the sweetest ladies on this earth...Let me stop...I get real emotional about Camille...)
Naw forget that...Look at her!
It's Camille! She love you...And you will give that up for a night of lust...
Niggas
...
Back to the bio...
Here he is poising with his handler.
The Pomeranian is a Nordic breed which takes its name from the province of Pomerania, now located in Germany. It was bred down to its current 3 to 7 pound toy size from larger ancestors which were used for herding and for pulling sleds. Their popularity was greatly enhanced by Queen Victoria of England, who owned the first Pomeranians to be shown. Poms come in a wide variety of coat colors and patterns. These spirited, loving and loyal dogs excel in the show ring, companion events and as therapy dogs in nursing homes and hospitals.
*Doesn't that sound so...So...You know...Up the ashtray...
Hey what if they started letting some underground breeds in the Westminster...Check this out...
Ch Tron's King
Breed: Pitbull
Sex: Dog
AKC: Nigga I don't know!
Date of Birth: Sometime in 2002
Breeder: Nana & Nico
Sire: Ch Hoover Street's Bishop (Like on Juice...Anytime you name a dog Bishop you know the dog comes from a crazy blood line...)
Dam: Ch Tron's Lady (I think everybody in the hood knows one dog named Lady...)
Owner: Rashid & dem
Here is a picture of Rashid & dem...
The breed standard for the Pitbull calls for it to be compact, muscular, with a medium to large body that enable him to efficiently do what he was bred to do; whoop up on other dogs and make its owners rich. The Pitbull has a short, docked tail and comes in many colors. A Pitbull must be brought up aggressive or it becomes a failure to itself society. Many people fear this animal, and you need to. It ain't no joke. A natural monument in any hood near you, the Pitbull's can be purchased on any block for about $100-250.
So what do you think?
Hey I'm trying to find a dog myself...Could you all help me narrow it down...
A PUG...
A CHINESE SHAR-PEI...
A SIBERIAN HUSKY...
or
A GRADE "A" MUTT...
I know this have nothing to do with dogs and stuff but I thought that you all needed to know this...Well you know lately all the sex crazed teachers are in the news...
Anyway...
April nuptials set for child rapist, 43 and victim/fiance, 22
Convicted boy lover Mary Kay LeTourneau and her former sixth-grade student have set an April wedding date...The 43-year-old LeTourneau, who spent more than seven years in jail for the rape of Vili Fualaau, is scheduled to tie the knot with her now 22-year-old lover on April 16, according to a Macy's wedding registry...You think I'm playing...Here are a few of the items on their wishlist...
And if you don't like any of that stuff...Well here's the whole list...
Word on the street is that Senorita Walker is gonna be her Maid of Honor...You remember...The 33-year-old Chicago high school teacher that paid three teenage boys in liquor and weed for sex...You let some teenagers run a train on you! Sad...Sad...Sad...
I was just joking about the Maid of Honor thing...But what if that would of happened...The bachelorette party would be off the chain...Little teenage boys everywhere...*Shaking My Head*
Okay...My post getting long again...Let me quit before I get on a roll...
But I can't leave you without the Black History Moment for the Day (Black History Month PBS Theme Music)...
The National GCH Black History Month Committee has an announcement...We have just added another honorary member of the black community to our list...This makes member #3 of this selective fraternity...
John B.
Bill Clinton
And the newest member...Please give it up for Edwin Perkins!
I know ya'll like who-d-hell is this...Well sitback and listen...
Edwin Perkins introduced Kool-Aid® in 1927 while living in Hastings, Nebraska...Kool-Aid® was born in this building at 506-508 West First Street in Hastings in 1927, across from the Burlington station...You know a great historian like myself has illustration...
Perkins Products were manufactured here from September, 1922 until January, 1931...By 1931, the demand for Kool-Aid® was so strong, other items were dropped so Perkins could concentrate solely on Kool-Aid®...He moved the entire production to Chicago for more efficient distribution, to be closer to supplies and to be able to expand even further if necessary...In the "Windy-City" is were it got in the hands of blacks...And next thing you know it we all in the commercials just cheesing...
Example...Look at this nigga...
He just happy to have a glass...
If you ever want to stop a fight...Go get some Kool-Aid®...If you ever want to start a fight...Drink all the Kool-Aid®...I have seen riots start because somebody drank the rest of the Aid and had the nerve to put the pitcher back in the frig...It looked like LA in 1992...I even have pictures...See...
*Shaking Head Some More*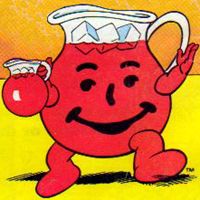 Thanks to Edwin Perkins we can sit around and drown ourselves in colored sugar water...This has been another Black History Moment (Black History Month PBS Theme Music)...I'll keep you posted